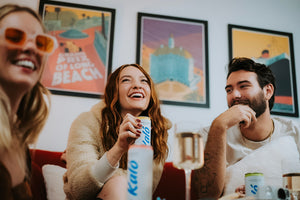 That Feeling? It's Kaló.
Refreshing. Natural. Full of the good stuff. With the help of our patent-pending process, you can enjoy the full potential of the hemp super plant, in every delicious sip.
Learn More
Packed with vitamins, minerals and antioxidants to boost your health
The hemp plant contains hundreds of natural elements to  help keep you calm and cool
Water-soluble extract means you can feel good fast
Now Available
Kaló Merch
Our first merch drop is here! Shop our selection of crew sweatshirts, t-shirts, socks and hats now.
Shop Now